With great ambition comes great stress. If you're an overachiever like me, sometimes staying on task with the millions of things you feel you must do perfectly can make you feel, well, like this:

(click for photo cred)
#1 goal at the moment is getting into Boston College
(Lynch School of Ed) for grad school. What I wasn't aware of until a few weeks ago was that I had to take the
harder version of the SATs
GRE exam.
So with the extra coursework plus the intense study sessions, my life has gotten a bit nuts. Here's what I do to keep my sanity (and style):
1.) Take mental breaks.
As tempting as it is to bury yourself in work for hours, your brain will FRY and won't retain half the information it needs to. Same goes for chores: after a while you'll be doing a poor job at half the speed. Just like with exercising, I like to
work in intervals
. I'll read or study vocabulary intently for an hour, then I'll watch an episode of Gossip Girl. Then I'll continue working. Trying to work for several hours straight is just asking for some serious procrastination and lack of focus.
2.)
Keep your space looking pretty
. If it can be pretty, why not make it pretty? Having a visually pleasing environment helps you stay relaxed.
For me, this means
having a pretty agenda:
a lovely
set of note paper
on my desk: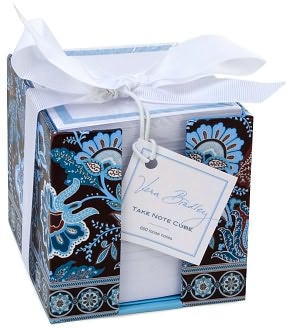 And my beloved little palm
plant
. (Not my photo, but the same plant!)
3.) Give yourself rewards.
It is much easier to deal with an overwhelming to-do list if each task has a little reward at the end. Like I mentioned before, an hour of hardcore studying earns me an episode of Gossip Girl. A completed reading assignment may earn me a homemade cookie, and a successfully-tackled vocabulary list can be self-rewarded with the latest issue of
Cosmo
. And if there's an ultimate goal at the end (for me it's getting accepted into BC), always keep it in mind.
One of the additional challenges of a stressful, busy lifestyle is maintaining a sense of style. It is way too easy to pull out the sweats and forget any sort of makeup regime when there's a million more important things to do. When I look frumpy and unapproachable, however, I feel frumpy and unapproachable. Here's how I keep my style when I'm in a rush:
1.)
Mascara + concealer.
Brightens the eyes and hides my dark circles/redness. Two minutes and I look well-rested/revived!

2.) Button-down shirt, dark jeans, high boots, pearl earrings.
Bam. Instant polish, no thought necessary.
3.) Dry shampoo
. Sometimes, I'll admit, there's no time to properly wash and dry my hair. For "skip" days, I spray a bit of dry shampoo on my scalp and brush it out. No more greasy hair! I use one made by Tresemme.
* * *
I hope to find time to continue posting on a somewhat regular basis. If you don't hear from me for week intervals, just know that I didn't fall off the planet, I've been consumed by GRE prep. Can't wait for my visit to Boston in a few weeks!
Hope your life is less stressful than mine currently is,
*Short
Blonde*